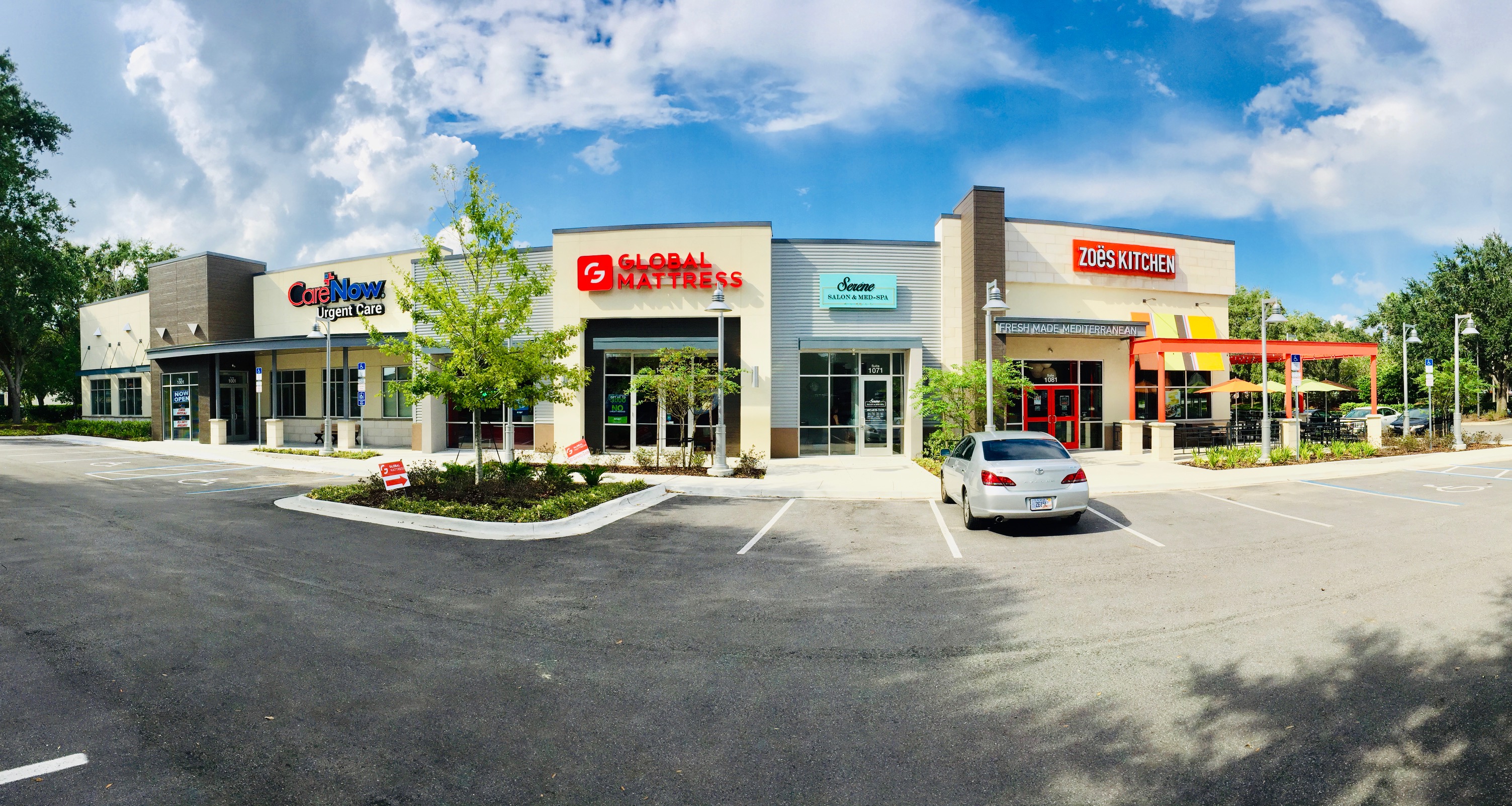 The Shoppes at Currency Circle in Lake Mary recently sold to a South Florida family for $9.15 million. (BKR Media Consultants)
A South Florida family used the $5.55 million they made from a land sale in Broward County as a down payment to buy the Shoppes at Currency Circle shopping center in Lake Mary. Under the corporate name Trapeza Inc., the family of the late Theodoros Karachalias paid $9.15 million for the 13,088-square-foot shopping center at 901
Currency Circle, according to a deed filed in Seminole County.
The seller was H.B. Retail Little LLC, an affiliate of Hupp Realty Advisers, a Clearwater firm headed by president Andrew J. Hupp. By reinvesting the money from the property sale in Davie, the Karachalias family was able to defer paying capital gains taxes through a 1031 exchange. Under the terms of this IRS provision, investors who want to defer long-term capital gains taxes after a property sale have 45 days to identify up to three properties they could buy. Then, they must close on one of the properties I80 days. The family chose Miami-based Tiktin Real Estate Investment Services to advise them on the 1031 exchange. Company founder Adam Tiktin said Theodoros Karachalias was his client for about 20 years, and the real estate broker also developed a relationship with Karachalias' children.
Tiktin said the land Karachalias sold in Davie had been leased to Regions Bank in 2007 for a term of 20 years. Regions had planned to build a bank on the property,
Tiktin said, but the plans fell through as the Great Recession gripped the country. "Regions was paying $432,000 a year but never built the bank," Tiktin told
GrowthSpotter. "We sold a bank with no bank." Over the course of a month, Tiktin said, he showed the family 20 properties for sale around the state. They liked the Lake Mary shopping center best. Tiktin and Alejandro Snyder, an investment associate at the firm, represented the family in buying the shopping center.
"They wanted something in a very nice location, with good demographics, in a retail corridor, with a secure cash flow and an area they thought would appreciate,
where rents would go up," Tiktin said. The shopping center, built in 2017, sits on a 1.8-acre lot. Tenants are CareNow Urgent Care, Zoës Kitchen, Global Mattress and Serene Med-Spa, all of which have signed 10-year leases, Tiktin said. Miami-based TCII Capital Group will manage the property. Tiktin said the Karachaliases financed 40 percent of the purchase price with a fixed 15-year mortgage at about 4 percent interest. "Their cash flow is going to be very good and they're very happy because there is
actually a building on the property they bought," Tiktin said.
The Shoppes at Currency Circle is situated at the signalized corner intersection of W. Lake Mary Boulevard and Primera Boulevard which benefits from traffic counts
of 68,300 combined vehicles per day. In addition, the site is adjacent to Interstate 4 with 125,000 vehicles passing by each day.